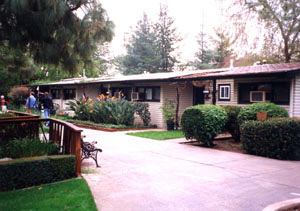 Gareth flew home to Wales but, after a six month stay, he discovered he couldn't cope with the Welsh climate and returned to the USA. He moved into the Motion Picture House & Country Home, a retirement haven for film workers in Woodland Hills, funded by stars for the benefit of all who had worked in the industry. He had his own cottage in the tranquil, colourful and attractive grounds of the home.
He acted as an unofficial chaplain at the home - baptising and burying former colleagues. His health was deteriorating, though, and he spent more and more time in the Home's hospital. He had lint on the lungs caused by sorting second-hand clothes for the Paiutes and needed regular treatment in an oxygen tent. He died at the home on October 1st 1965, at the age of seventy, and his ashes are buried in a Masonic Cemetery at Reno.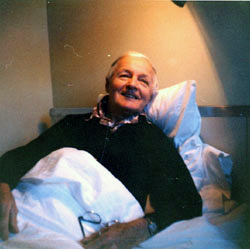 The research and material contained in these pages is the intellectual
and moral property of Stephen Lyons. © Stephen Lyons 2008
Any copying, distribution or publication of this material, in any manner or form in any media whatsoever, without authorisation, is prohibited and will be subject to legal action.