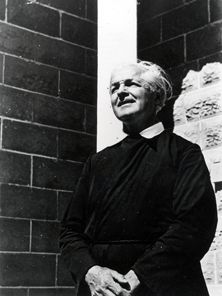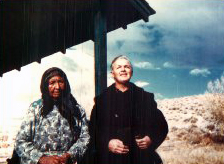 In the early 1940's Gareth decided to take Holy Orders and adopted the name Brother David. His monastic attempts were not successful but, in 1944, he was offered a place as a lay worker on the Paiute Indian reservations in Nevada. This was the beginning of his greatest work. He was moved immediately by the hardships of this Native American tribe and, from that point, devoted his life to their welfare, at whatever cost.
He ministered to their every need: spiritual, medical, financial. His maxim was "Don't try to convert them. Love them". He encouraged them to make things to create revenue. He arranged events for which the tribe received fees. He persuaded his former film industry colleagues to provide entertainment and clothing. He took parties of younger Paiutes to Reno where the hotel owners would treat them at Brother David's insistence. He worked tirelessly to improve the welfare of the Paiutes.
He became a member of staff in the English Department at the University of Nevada at Reno and officiated at celebrity weddings. Any additional salary was simply a means to make life easier for his Indians.
For seven years he was in charge of the parishes at Nixon, Wadsworth and Fort McDermitt – a round trip of some 500 or so miles. In 1956 when Father Hogben returned from his sabbatical to take up position at Nixon again, Gareth was sent to McDermitt and was not happy. He felt he deserved better and, with failing health, he resigned his position and took a job at a Reno wedding chapel - again, using his salary to run a small mission for his Indians at Wadsworth.
He made a difference to their lives, the loss of which is still felt today by those who knew and loved him. It was no easy road to achieve what he did and, until failing health forced his retirement in 1958, he had served his beloved Paiutes for thirteen years. It is what he believed he was born for, even though it was this service which caused his death.
The research and material contained in these pages is the intellectual
and moral property of Stephen Lyons. © Stephen Lyons 2008
Any copying, distribution or publication of this material, in any manner or form in any media whatsoever, without authorisation, is prohibited and will be subject to legal action.